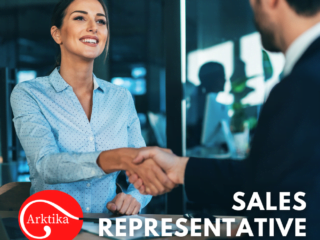 Website Arktika 365
Frozen Food Production
The Role:
We are looking for a Junior Sales Account Manager to join our team. You will be mainly responsible for building and maintaining strong relationships with key accounts. You will also supervise and support regional managers to increase sales and profitability.
As a Junior Sales Account Manager, you should be organised and able to analyse performance metrics. We also expect you to have good negotiation skills and the ability to foster relationships with customers.
Ultimately, you should be able to facilitate communication with customers and build long-term relationships to achieve business goals.
Responsibilities:
●Conducting market research to identify selling possibilities and evaluate customer needs.
●Actively seeking out new B2B sales opportunities .
●Managing organisation sales by developing a business plan that covers sales KPI's.
●Network with key customers to identify and address specific needs.
●Build and maintain long-term relationships with key customers.
●Track, measure and evaluate customer satisfaction metrics and trends.
●Suggest innovative ways of increasing customer satisfaction.
●Liaise with Sales and Marketing departments to set and implement strategies for new products.
●Stay up-to-date with internal and external developments and suggest new ways to increase sales.
Qualifications & Skills:
●Experience presenting and selling to buyers
●Ability to multitask
●Demonstrable experience in negotiating and meeting clients requirements
●In-depth understanding of sales performance metrics
●Hands on experience with CRM software and MS Excel
●Excellent analytical and organisational skills
●Strong communication skills
●Availability to travel as needed
●BSc degree in Marketing, Business Administration or relevant field, would be a plus
Send your CV: career@arktika365.com
Starting Period: Mid September
Part time job.
Salary of Part Time job, plus sales bonus.